How Victoria Sent Her First 5.12
May 23, 2023
When it comes to training, you get out what you put in. Do you show up consistently? Do you go through the motions or are you fully engaged in your session? Do you trust the process even when you wish you were progressing faster?

There is no moral superiority that comes with putting a quality, consistent effort into training. However, the reality is that the more you apply yourself, the better the results you will see.

Which is why I am so thrilled to be sharing Victoria's story, because she consistently applied herself during our training block. The results speak for themselves.
After her twelve week training cycle with Good Spray, Victoria sent her first 5.12a, Cannabis. Additionally, during this stellar season, she put down two 5.11ds and an 11c flash, bumping both her redpoint and flash grade.

Here is what Victoria had to say about her progression this spring in comparison with her previous training efforts.
"Before it was kind of a rollercoaster of hoping for improvement, maybe seeing it, and mostly being frustrated. I know this is a big leap in performance that I might not see all again at once, but I am really excited to start working on some more fun routes."
But what changed in Victoria's climbing to result in such a great season? Let's break it down.
Metrics, Before and After
While numbers will never be able to tell the full picture when it comes to climbing, we did see major shifts in Victoria's numbers before and after working together.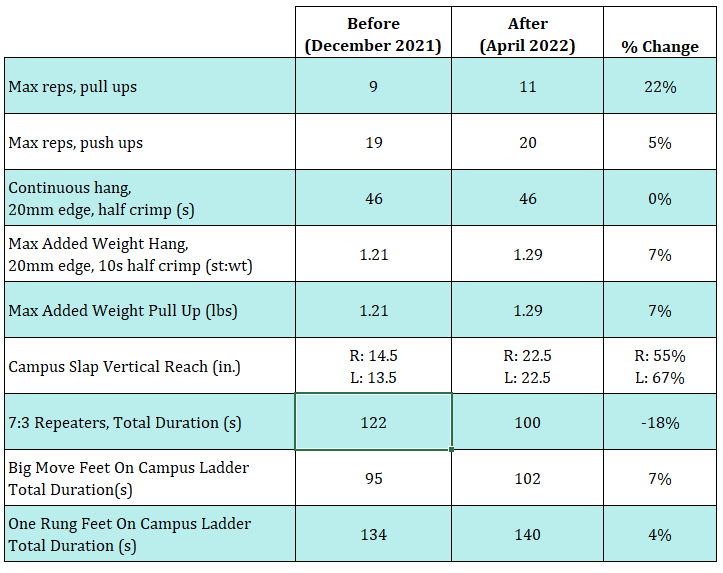 Testing was done mid-December 2021, and the first week of April 2022.Training was completed over 12 weeks from January through March.
For a detailed explanation of this assessment see here.
This is a lot to look at, so allow me to pull out some of the more interesting pieces.
Developing Maximal Strength & Power
From the start of our work together, I could see that Victoria already had a solid base of endurance. It was easy to see that focusing our efforts on developing maximal pulling power and finger strength would be time well spent.
Victoria saw massive improvement in her campus slap test. She nearly doubled here explosive reach on both sides. This progression was bolstered by the increases in her finger and pulling strength, as evidenced by her max added weight hang and pull up measurements.
[For a video of the campus slap test, go here]
What about endurance?
You will notice that not every measurement went up after 12 weeks, in fact some stayed about the same or went down. While some of this could simply have to do with testing conditions or other variables, it is true that the body has limited capacity for adaptation. While you can get close, making massive gains in many areas at one time is challenging.

You have to pick your battles. With Victoria, we tackled strength and power primarily, while letting endurance "simmer".
It is also important to note that the climbs Victoria was aiming to send in Red Rocks were on the shorter side of sport climbs, relatively speaking. Cannabis is 5 bolts of power endurance and most of her climbs fell into the sub-60 feet category.

Exceptional levels of endurance such as what you might need for climbs clocking in at 100+ feet simply were not needed. So we did not train that way.
Climbing better, climbing confident
While the numbers tell one story, they absolutely are not everything. During our time together, Victoria and I focused on these facets of her technique and skills:
working on explosive, dynamic movement
improving her body tension
climbing efficiently while fatigued
Here is a side by side of her climbing Sweet Pain, 5.11d. On the left is her send from this Spring. The right is a video of one of her winter 2021 attempts.
What's the difference?
The difference between sending and not sending is often found in small details. While they might be hard to spot, here are a few key improvements that you may notice in this side-by-side comparison.
in general, you can see she is moving at a slightly faster pace in her send video
she is readjusting on the holds less, planting her feet, and transferring weight more quickly and efficiently
at 2:03 (right around the crux) you can see that she is much less fatigued in the send video vs. her attempt in the winter.

Tying it all together, Victoria's increased strength and power allowed her to make more big, powerful moves without tiring out throughout the duration of the climb. Additionally, her improved movement economy contributed to her having the juice towards the end of the route to keep going and clip the chains.
What she learned:
While the sends are gratifying, I am so glad to hear that as Victoria pursued climbs at her limit, she learned a lot and had fun doing it. Most of all, Victoria learned valuable lessons in our time together – lessons that she can keep using for years and years to come.

When I asked her what she got out of working with me, here is what she had to say.
"I used to really struggle with feeling like being in the gym was unproductive – a few weeks in I could already see progress in small but significant ways.I have a much more systematic way to work through projects (indoor and outdoor). Now when I feel stuck, I have a lot more confidence that I can work through the moves instead of just feeling shut down."

– Victoria
A huge, congrats to Victoria on reaping the benefits of her persistent efforts.

I can write effective training plans all day, but without athletes like Victoria trusting the process and doing the work, I would not have stories like this to share.
Join 1000+ climbers who get the Training Plan Makeover every week.
Subscribe for FREE to the Good Spray Newsletter to get exclusive access to the Weekly Training Plan Makeover! Each week, we choose an audience member for a free audit so you can learn to improve your training from real-life examples.
For actionable climbing tips (that work for actual, busy humans) you want the Training Plan Makeover in your inbox.
We hate SPAM. We will never sell your information, for any reason.